(above images require JavaScript installed)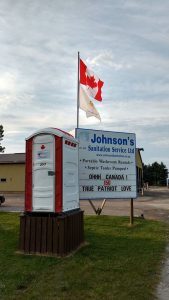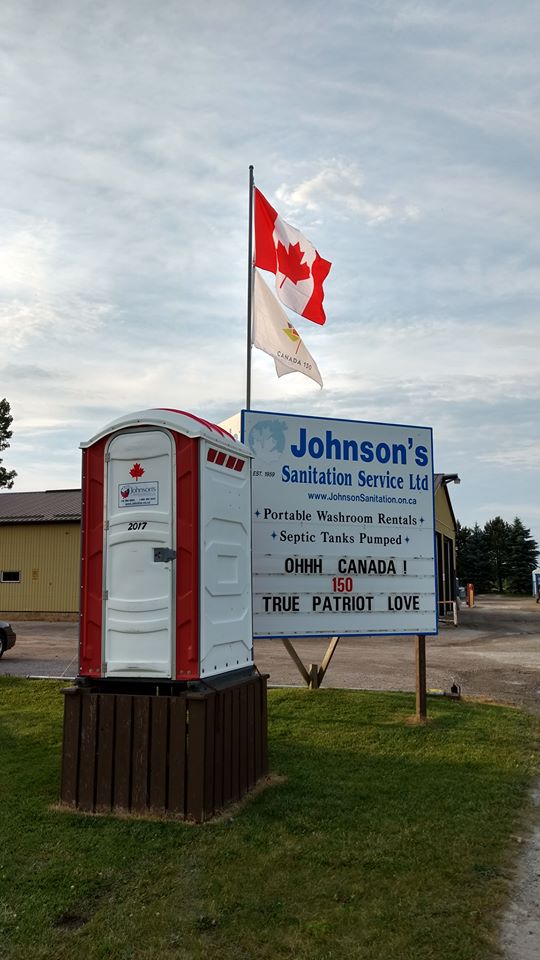 Johnson's Sanitation office entrance June 2017
—-O—-
Johnson's Sanitation is a family owned and operated business. Offering septic services and portable toilet rentals for over 50 years!
Since 1959, we having been providing waste/sewage hauling from septic systems/septic tanks, plus rental & servicing of a wide variety of portable toilets/washrooms, wash stands/sinks and washroom trailers. We are located in Parkhill, Ontario (25 miles NW of London).
You may find a cheaper price, but you won't find a better service!
These thumbnail images, are a small example what we have to offer……
Your opinion: If you have used our services in the past, please feel free to comment on how we did, by sending an email to comments@JohnSan.on.ca.
Portable Toilets, Washroom Trailers & Sinks
We regularly inspect and grade our toilets, sink and trailers based on their current condition and age. Only our newest units are used for weekend rentals. Older units are used for long term rentals or construction rentals. IMPORTANT. All rental units are subject to a Conditions of Rental agreement and must be returned in the condition it was delivered.
The Conditions of Rental can be accessed by right clicking the banner.
Septic Tank Services
We have a variety of specialized equipment to locate and un-plug septic drain lines. With our 50 plus years, comes a knowledge of a wide range of septic systems. We offer assessments of existing septic systems. We sport a BCIN licence under the new Building Code.
Come out and see us at these following events
*

*
Although our company colours are white with blue, we are also green. We dispose of the sewage through regulated land application and/or at a sewage treatment plant. We also use an environmental friendly chemical solution in our portable washrooms.
How to find us
Click on the following link: Johnson's Sanitation Service Ltd. location, Google Map Canada
Navigating our web page
Place the mouse over the tab "Services" along the top of the page. Choose "Rentals" to view the extensive selection of toilets, trailers and sinks that we rent and service. "Rental Information" tab contains an explaination of the various configurations of washrooms.They have come a long way from the backyard outhouse. Choose "Septic" to view information on your septic system or our septic related equipment.
*
Do you live outside of the Parkhill exchange, ex. Strathroy, Grand Bend or Arkona. Call our new London number (519) 518-5346 or use 1-800-265-3473 (not national, serves a localized area only).
We are a member of

Click on logo to search for other businesses serving your area.